Discovery Place Preschool Information for 2020-2021 school year -Registration is open...enroll your student now!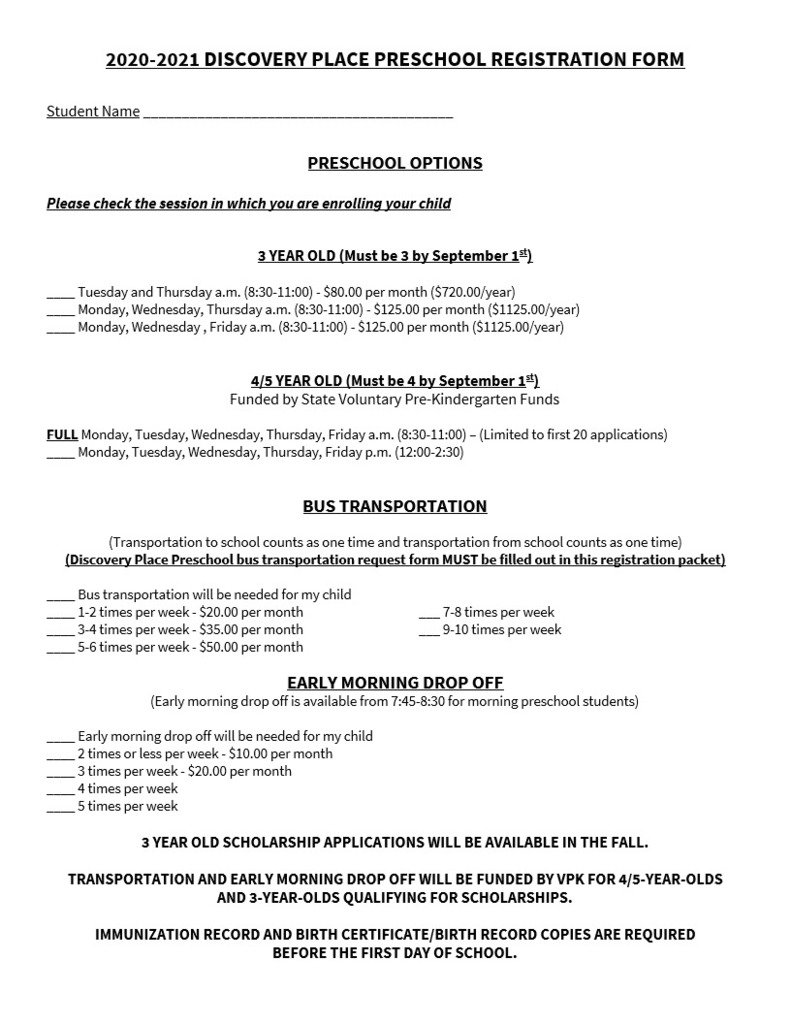 KG - 2nd Gr. Original Works Artwork Projects have arrived -- see below for pickup information!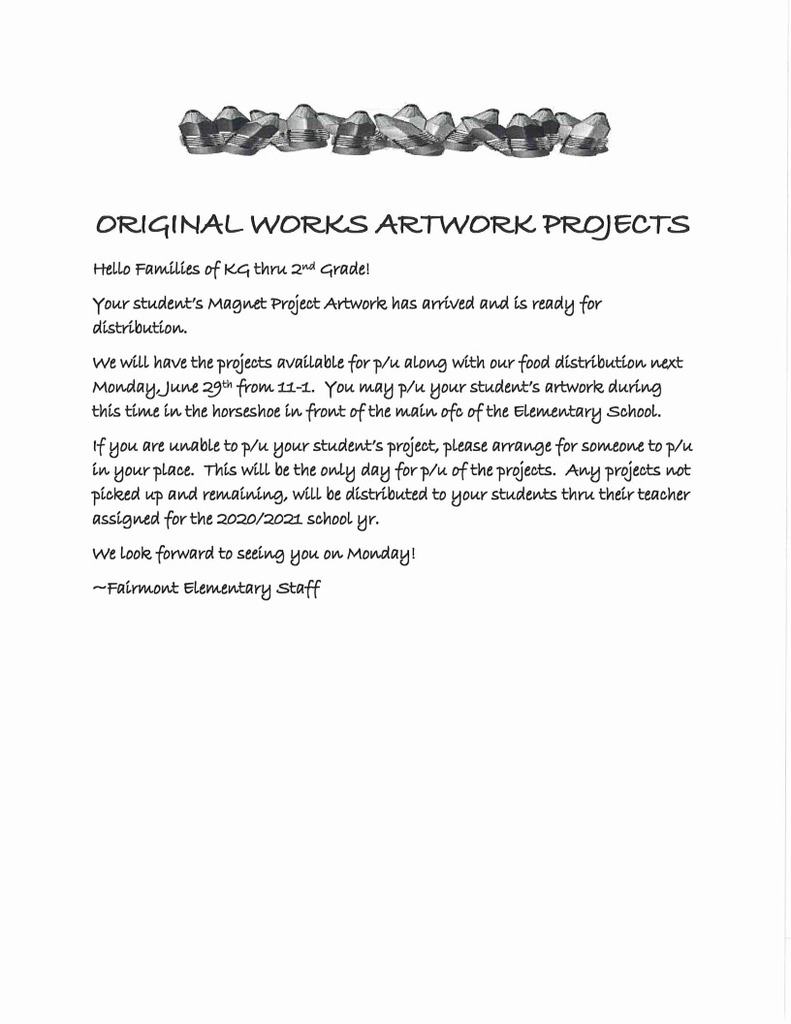 Reminder: Preschool online registration is open for your preschooler...register now!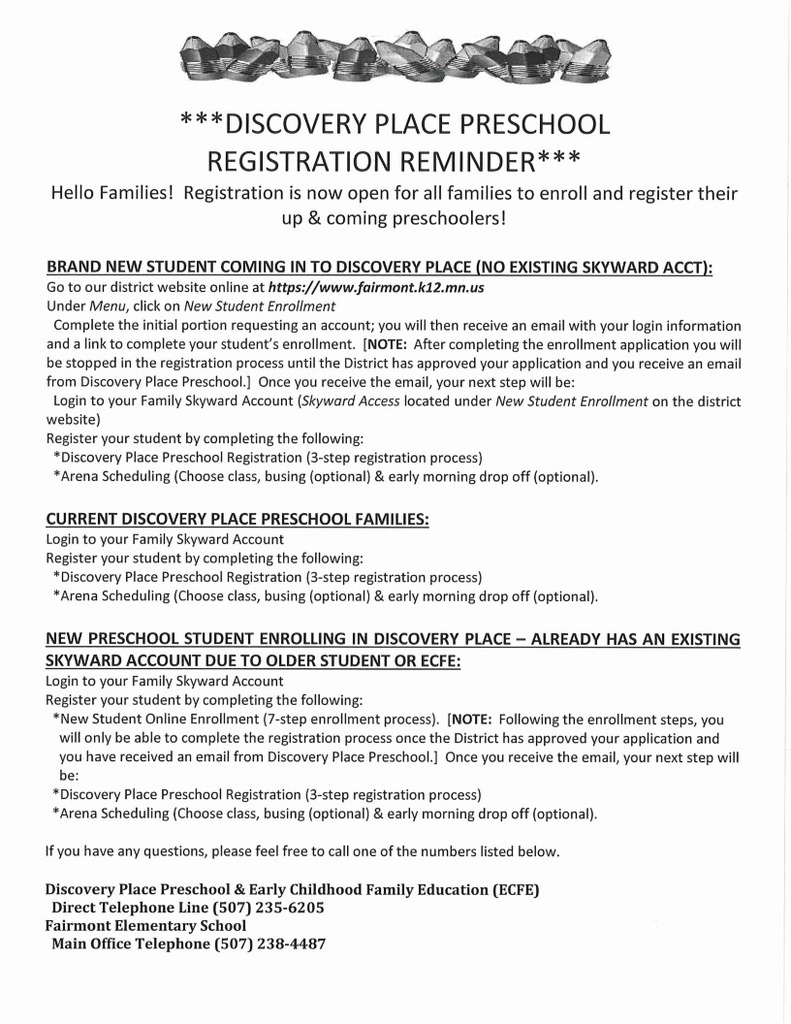 Check out this memory video of Mrs. Aukes' class! They had a great year together. It may have been a little different than planned, but our memories will always be cherished! 😊
https://youtu.be/-N2Y_nbXUWs

It is recommended that children stay up-to-date on their immunizations during the COVID-19 outbreak to prevent outbreaks of other infectious diseases. Due to this recommendation, Faribault & Martin County Public Health is resuming immunization services, by appointment only. Precautions are in place to keep you and your child as safe as possible during the appointment. To schedule an appointment or to ask questions, please contact Candi at 507-238-4757 in Martin County or 507-526-3265 in Faribault County.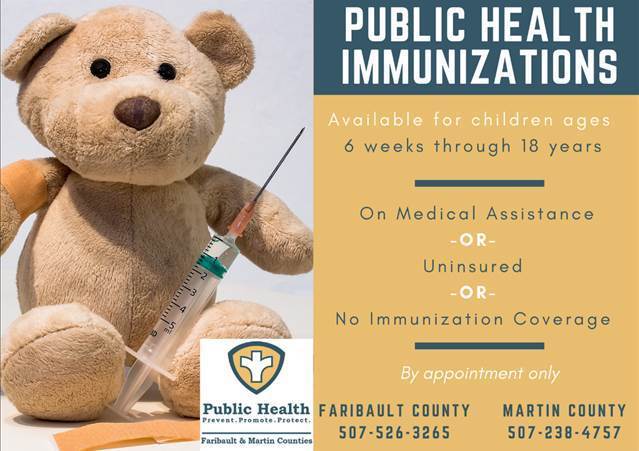 Fairmont Elementary Parents - June 1st will be our last day of distribution pick up and drop off. We will have only 1 time slot for pick up and drop off on June 1st. It will be from 10:30 am-1:00 pm. Things to return on June 1st: * Technology (Chromebook or iPad with charger) * Library Books * Thank you/Goodbye letter to your teacher We will also be having a reverse parade with staff members lining the sidewalks to wave goodbye to parents and students. Please bring your child(ren) in your car so they can wave goodbye to their teachers too. Thanks for all you have been doing during this distance learning. It has been a unique way to end a school year. If you have questions about the 2020-2021 school year please reach out to the main office. Have a wonderful summer!
Discovery Place Preschool - Registration open for 3 y.o. & 4 y.o. preschoolers - Register today!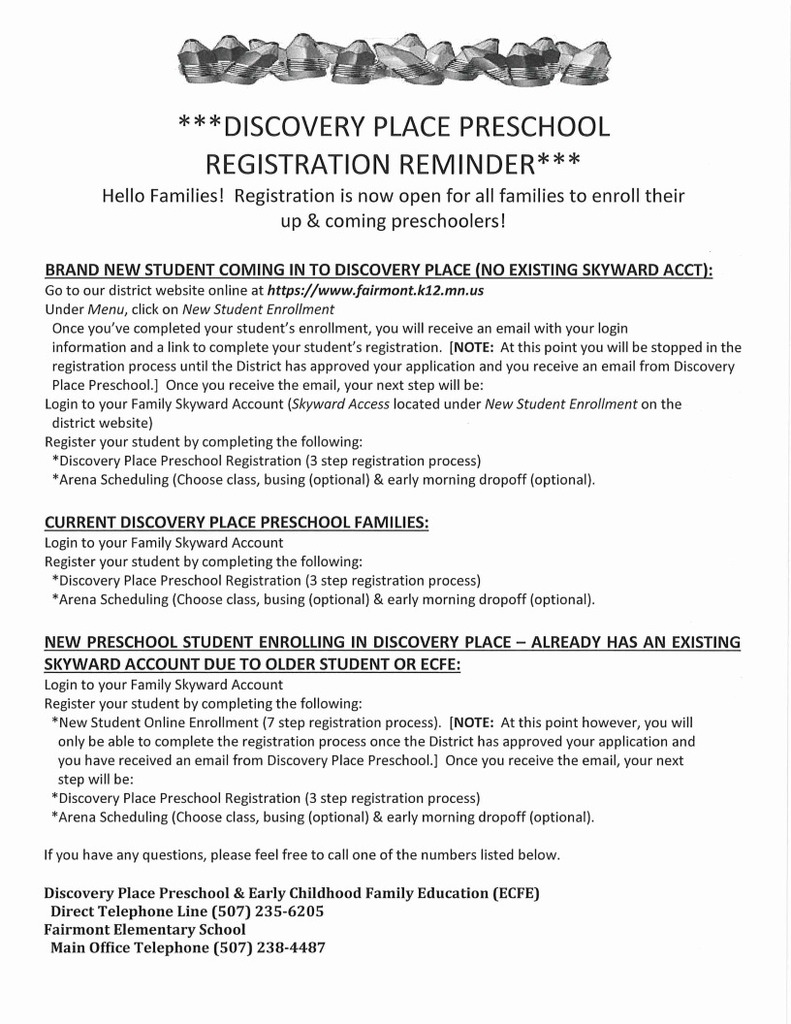 It's not too late to register your kindergarten-age student for school in the fall! Please register your child online using the instructions below. Call with any questions you may have. 238-4487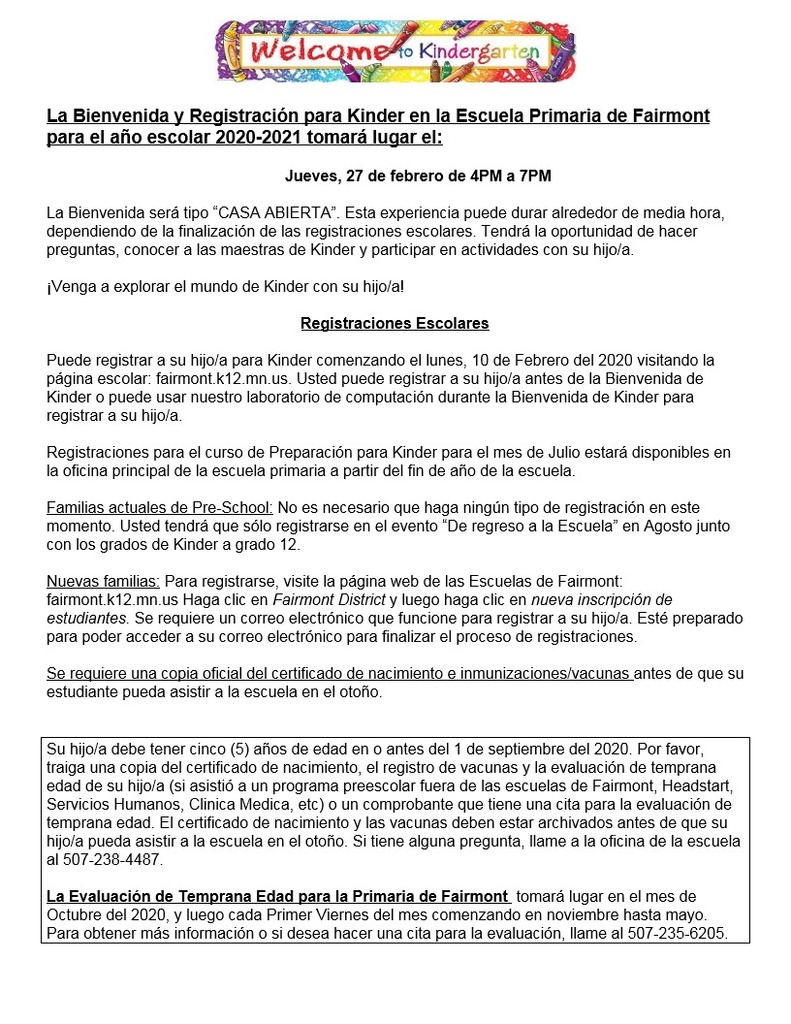 HEY CARDINALS!!!!!! Happy Wednesday!!!! GET MOVING! You do not need to be set up exactly like us ... like I say in the introduction, improvise and use whatever you have .... just feel the beet & "Drum" along!!!! The most important take-away is to just keep your body moving! Add a video or picture of your kids or family doing the routine in the comments below!
https://drive.google.com/file/d/1jMCyufBjvzs6p_noTtXjznVyt872FSjC/view?usp=sharing

YMCA Chalk Challenge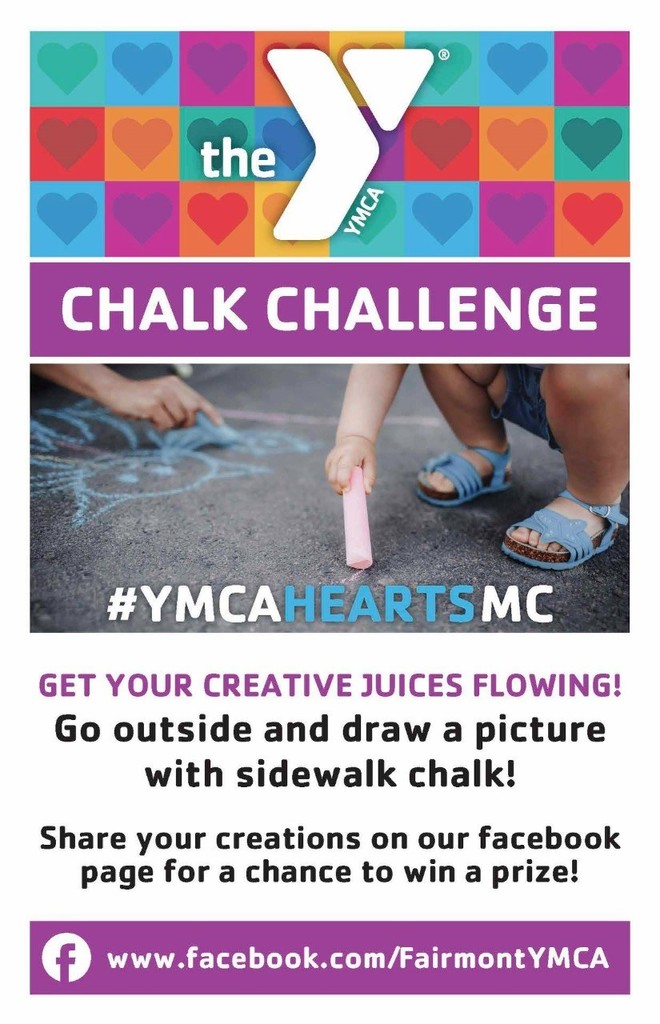 Discovery Place Preschool Registration for 2020/21 Reminder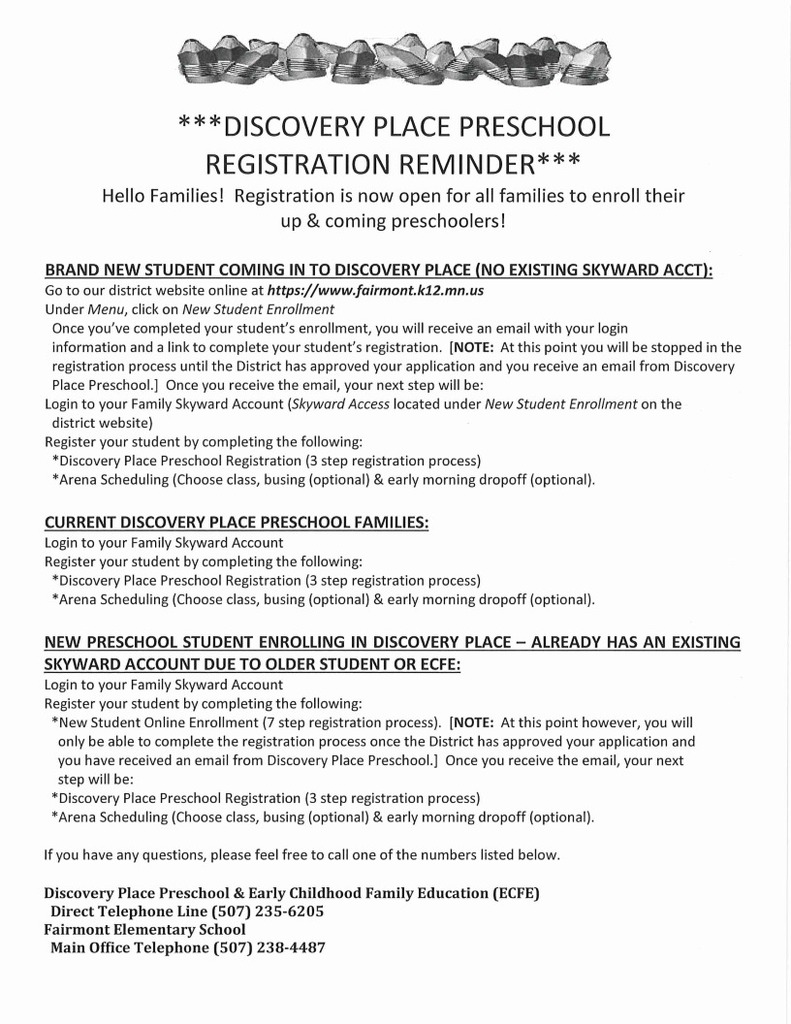 Attention Seniors! Cap & Gown Handout: May 15th Times: 7:30-8:30 11:30-12:30 5:00-6:00 Students will pull through the horseshoe and pick up from their car. We will have everything inside Door 14. If they don't pick up during that time they can stop into the main office.

It's Teacher Appreciation Week!