REMINDER that we are holding Early Childhood Screenings the 1st Tues of ea. month throughout the school year! Please see below for information re: scheduling your child's screening. NOTE: At this time screenings are being held via telephone - interview style. More information can be provided when you call to schedule.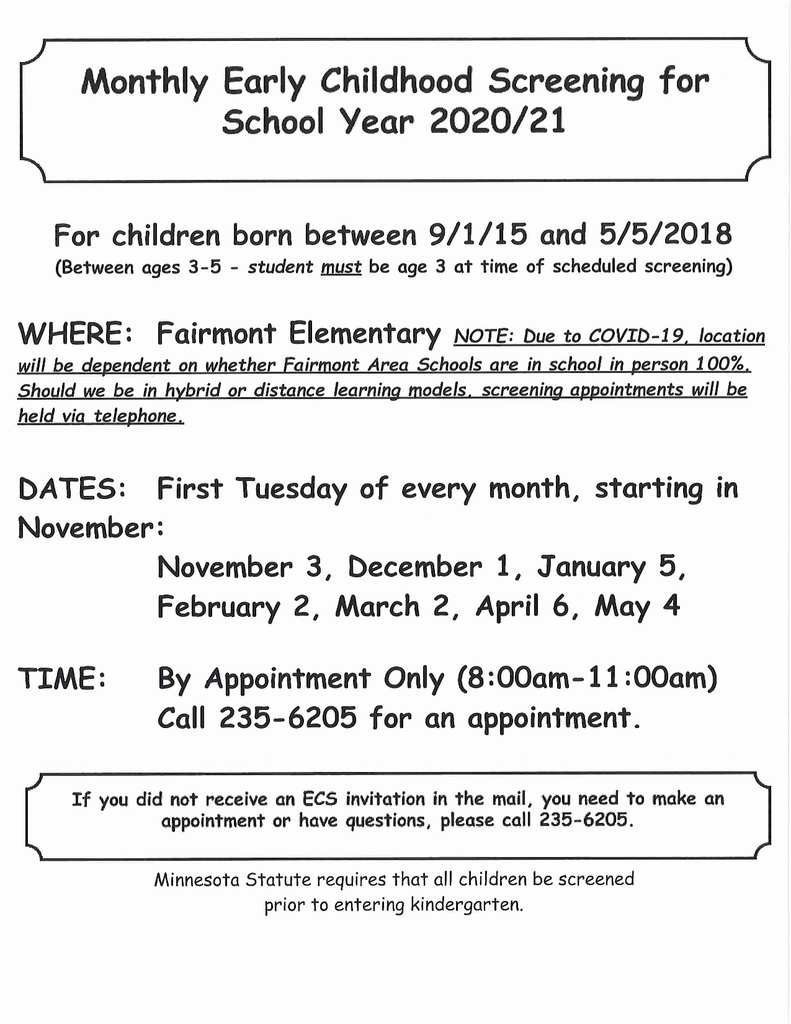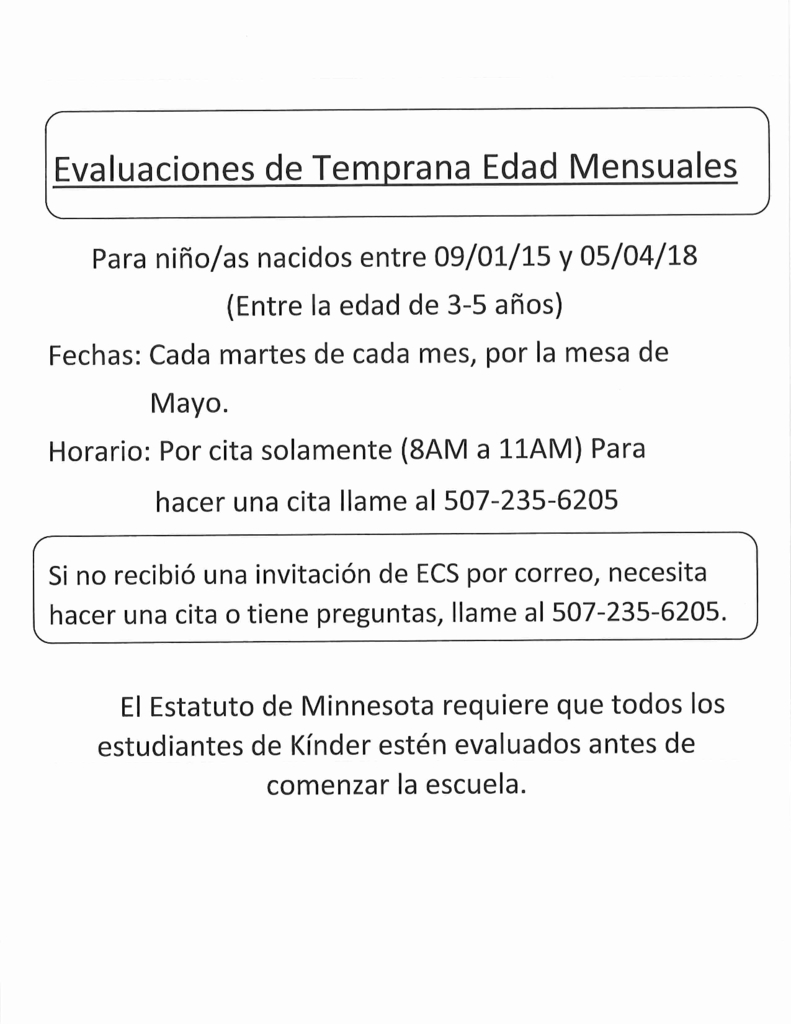 𝐌𝐞𝐚𝐥 𝐁𝐚𝐠 𝐏𝐢𝐜𝐤 𝐮𝐩 𝐒𝐜𝐡𝐞𝐝𝐮𝐥𝐞𝐝 𝐟𝐨𝐫 𝐓𝐎𝐃𝐀𝐘!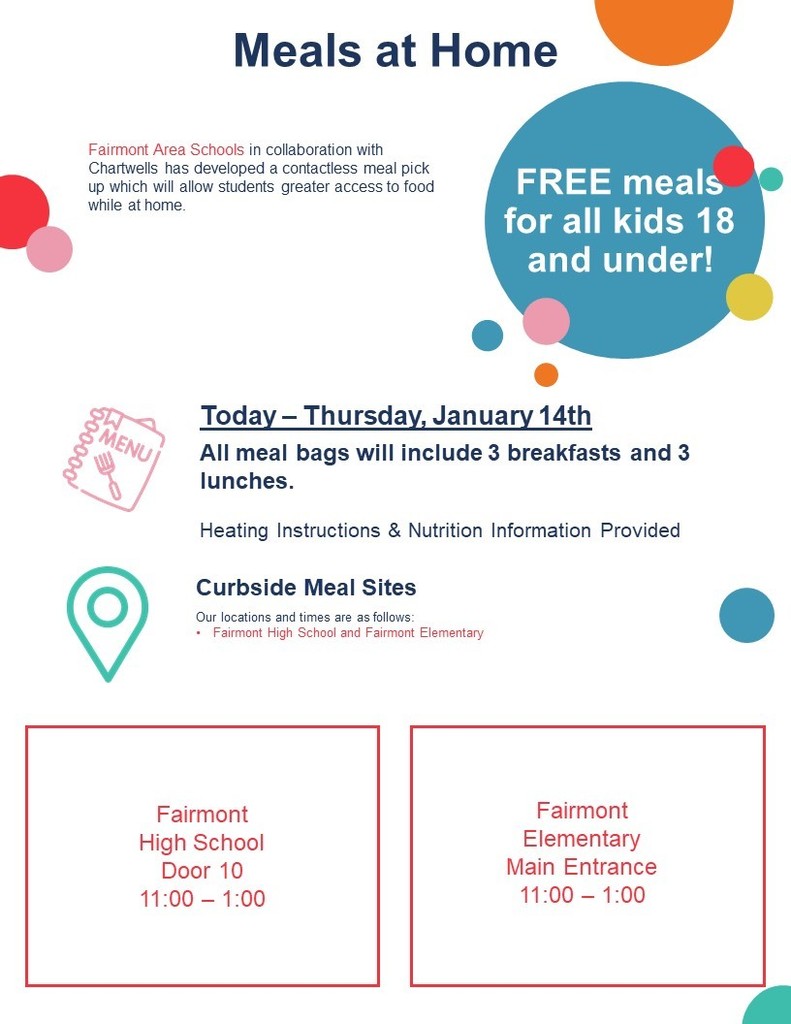 𝗠𝗲𝗮𝗹 𝗕𝗮𝗴 𝗣𝗶𝗰𝗸 𝘂𝗽 𝗦𝗰𝗵𝗲𝗱𝘂𝗹𝗲𝗱 𝗳𝗼𝗿 𝗧𝗢𝗗𝗔𝗬! Due to the impending blizzard warning for our area, we will be handing out 3 day meal bags today, Thursday, January 14, 2021. The bags will include 3 breakfasts and 3 lunches. You can pick them up at the following locations: Fairmont High School Door 10 from 11:00 – 1:00 Fairmont Elementary Main Entrance from 11:00 – 1:00 You may pick up bags for any child ages 0-18. You may also pick them up for other families if they can't make it today.


HyVee Fuel Your School Promotion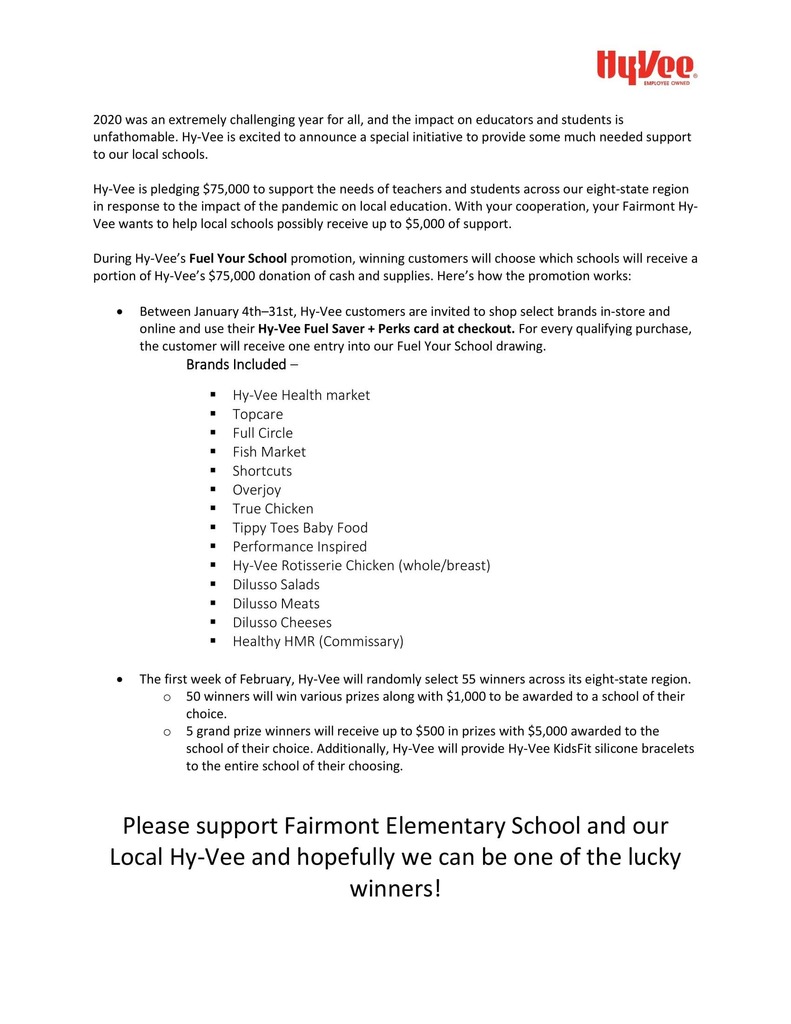 𝗣𝗟𝗘𝗔𝗦𝗘 𝗝𝗢𝗜𝗡 𝗨𝗦!!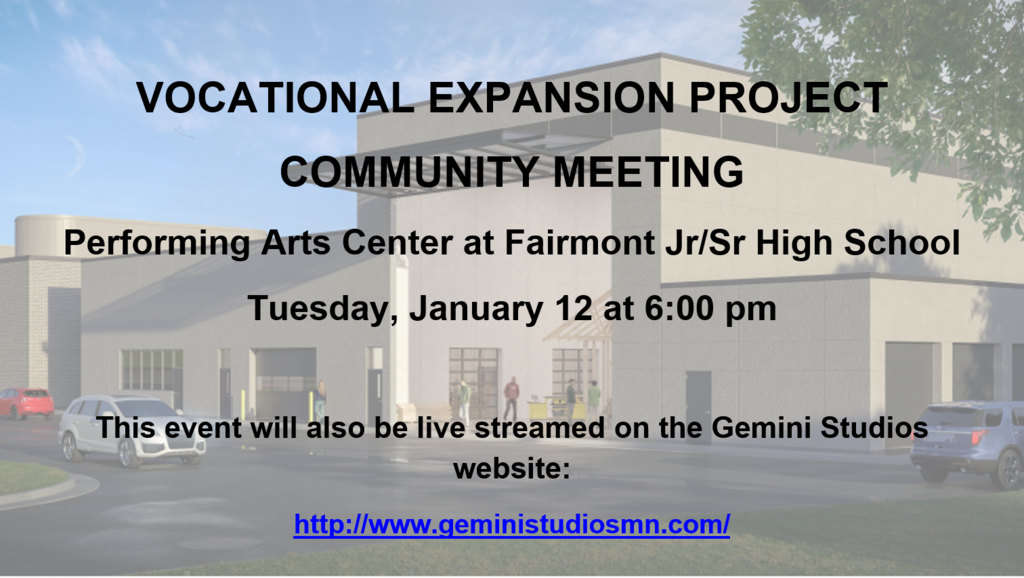 𝐌𝐄𝐀𝐋 𝐏𝐈𝐂𝐊 𝐔𝐏 𝐅𝐎𝐑 𝐉𝐀𝐍𝐔𝐀𝐑𝐘 𝟏𝟏
𝙍𝙀𝘿 𝘽𝙐𝙇𝙇 𝙔𝙊𝙐𝙏𝙃 𝙒𝙍𝙀𝙎𝙏𝙇𝙄𝙉𝙂 - 𝙎𝙄𝙂𝙉 𝙐𝙋 𝙉𝙊𝙒!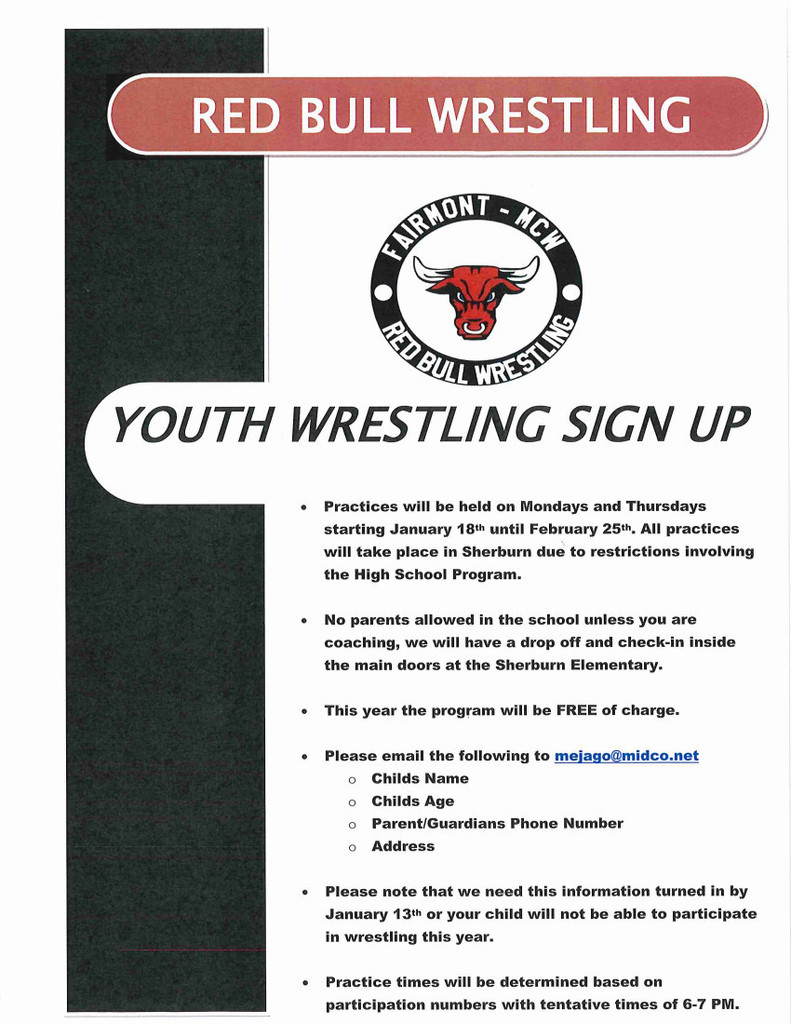 𝙃𝙄𝙂𝙃 𝙎𝘾𝙃𝙊𝙊𝙇 𝙑𝙊𝘾𝘼𝙏𝙄𝙊𝙉𝘼𝙇 𝙀𝙓𝙋𝘼𝙉𝙎𝙄𝙊𝙉 𝙋𝙍𝙊𝙅𝙀𝘾𝙏 Please click on the link below if you would like to show your support for the Vocational Expansion Project at Fairmont Jr./Sr. High School
https://forms.gle/ks14LXA4C9KaqSjT8
Thank you!
𝑻𝑰𝑷𝑺 𝑭𝑶𝑹 𝑻𝑨𝑳𝑲𝑰𝑵𝑮 𝑾𝑰𝑻𝑯 𝒀𝑶𝑼𝑹 𝑲𝑰𝑫𝑺 𝑨𝑩𝑶𝑼𝑻 𝑻𝑯𝑬 𝑵𝑬𝑾𝑺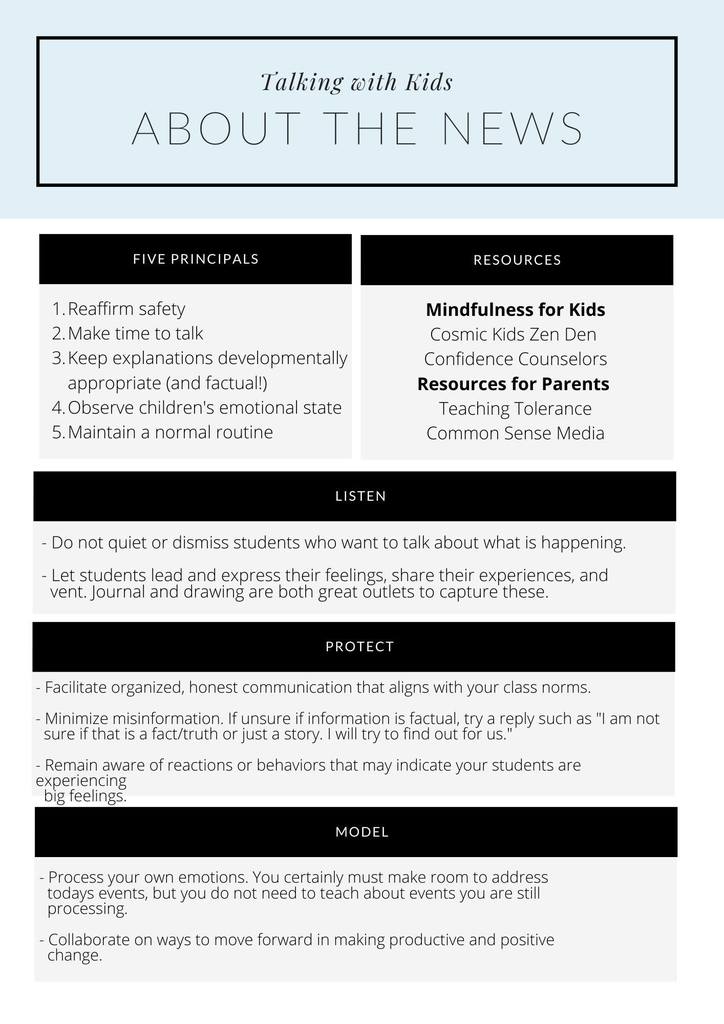 REMINDER ~ ECFE Class begins this week!! Friday morning will be the 1st of our Jan/Feb sessions! If you have not enrolled/registered yet, now is the time! Please see information below on the classes offered and instructions for online enrollment/registration. NOTE: Once you complete the enrollment/registration process for your child, please call our office to choose your preferred class @ 235-6205.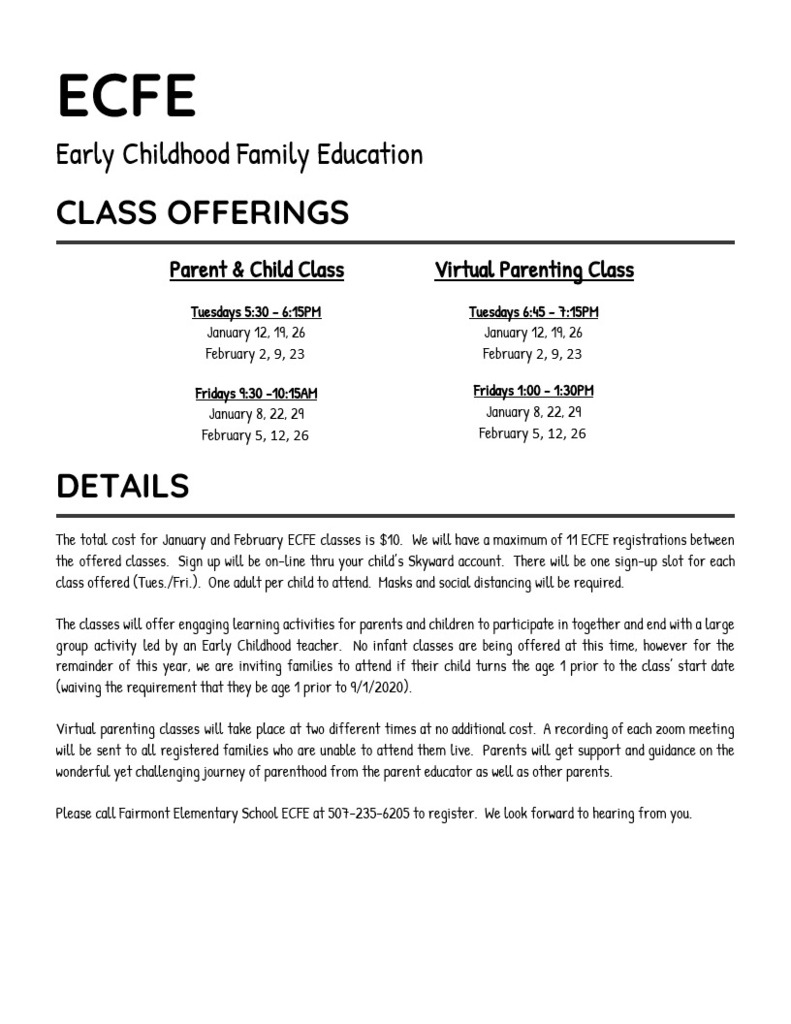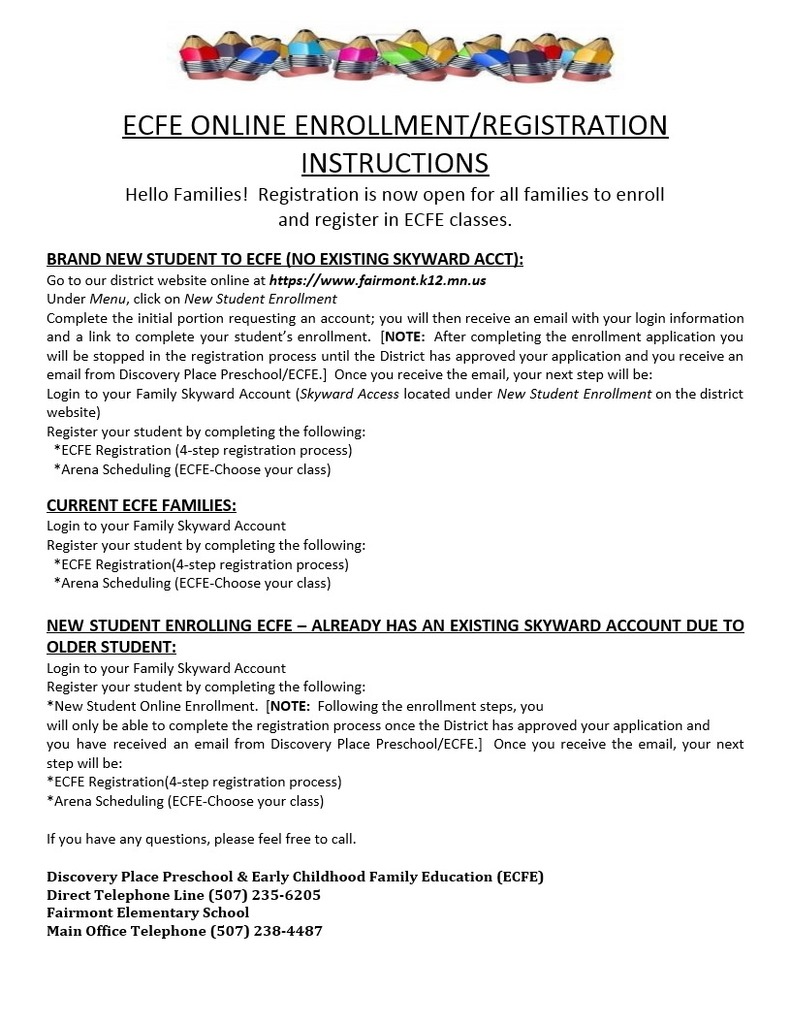 𝗠𝗘𝗔𝗟 𝗣𝗜𝗖𝗞-𝗨𝗣 𝗙𝗢𝗥 𝗝𝗔𝗡𝗨𝗔𝗥𝗬 𝟴
𝙈𝙀𝘼𝙇 𝙋𝘼𝘾𝙆𝘼𝙂𝙀 𝙁𝙊𝙍 𝙈𝙊𝙉𝘿𝘼𝙔, 𝙅𝘼𝙉𝙐𝘼𝙍𝙔 4
Meal Package for Monday, December 21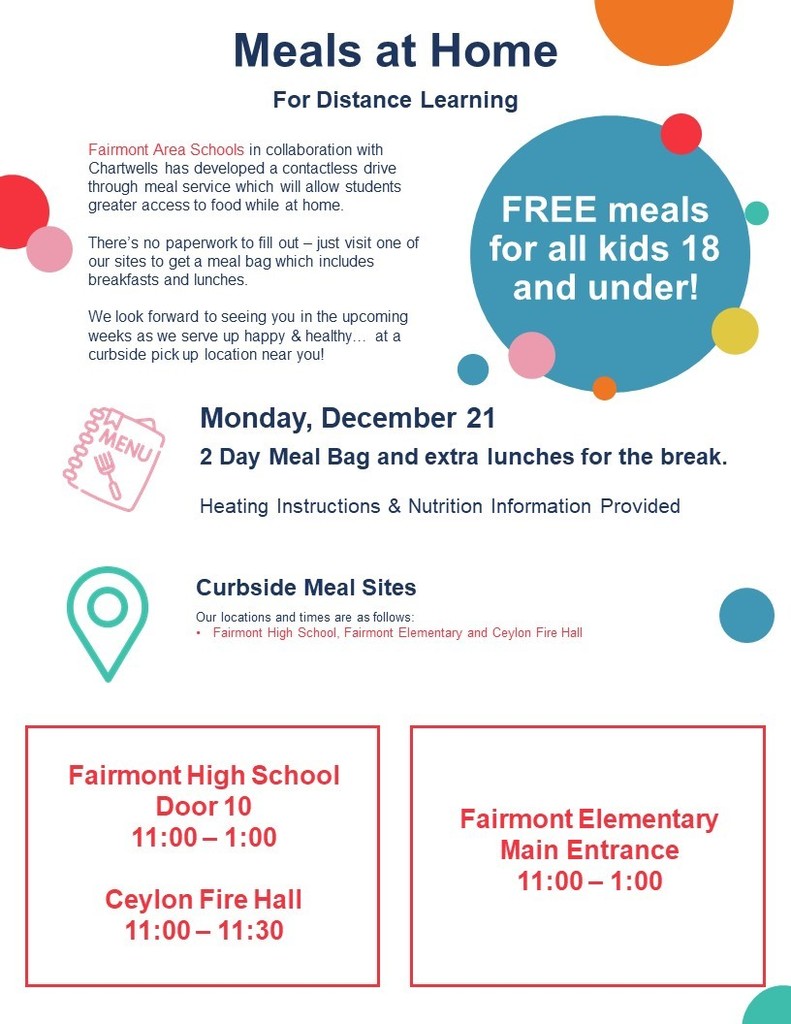 This week concludes our Nov/Dec session of ECFE classes. Our Jan/Feb session will include Tuesday classes on Jan. 12, 19, 26, Feb. 2, 9, and 23rd as well as our Friday class option on Jan. 8, 22, 29, Feb. 5, 12, and 26th. Please register through Skyward or if you don't have an account, call 507-235-6205. See you in 2021!!


Minnesota Helpline (English): For questions related to the COVID-19 pandemic, call 651-297-1304 or 1-800-657-3504 Mon.-Fri.: 9 a.m. to 4 p.m. COVID-19 (Spanish) HOTLINE: 651-304-6145 Are you: 1. Seeking COVID-19 related support in your native language? 2. Needing help accessing resources such as food and housing? 3. Wanting additional information related to COVID-19? Our specialists provide information in English and in Spanish regarding available resources, brought to you on behalf of the Minnesota Department of Health and the CDC.

https://drive.google.com/file/d/1DqbSZvl673c2_bcWrPOWmbMgx1vV5K_0/view?usp=sharing
Hola querida familias Hispanas de nuestro distrito. Tenemos la alegría de presentarles a Karla Olson, nuestra nueva Coordinadora de enlace de la escuela primaria de Fairmont. Karla estará al servicio de las familias en la escuela primaria. Mientras tanto Natanael Moreno estará a tiempo completo en la secundaria y preparatoria de Fairmont. Por el momento para poder contactarse con Karla, el número de ella es 507.235.4503 y su correo electrónico permanente es
kolson@fairmont.k12.mn.us
.