Check out the HOMEBUYER EDUCATION WORKSHOP Find out if home ownership is right for you! Learn more about: ·Credit, budgeting & affordability, Mortgage loans & terms & costs, ·Shopping for & keeping your home VIRTUAL/ZOOM Workshops 2022 TWO DAY CLASS 5:30 pm to 9:30 pm (attendance is required for both evenings) February 8 & 10 Class size is limited to 25, so sign up early! REGISTER ONLINE OR CALL: Website:
www.swmhp.org
Telephone: 507.836.1604 Email:
maryb@swmhp.org

****Registration closes tomorrow, You still have a day to sign up for this class**** Fairmont Dance Team Clinic: For ages K-6 Feb. 3, 3:30-5:30 PM, Fairmont High School $40, for more information check out our webstore. REGISTRATION CLOSES Jan. 18

For the safety of our participants and coaches, due to the weather we have made the decision to cancel CER Saturday Morning Boys Basketball for tomorrow, January 15. Stay warm and stay safe.

Did you know that Fairmont Community Education is here to offer everyone classes? You do not have to live in the community to participate in our programs?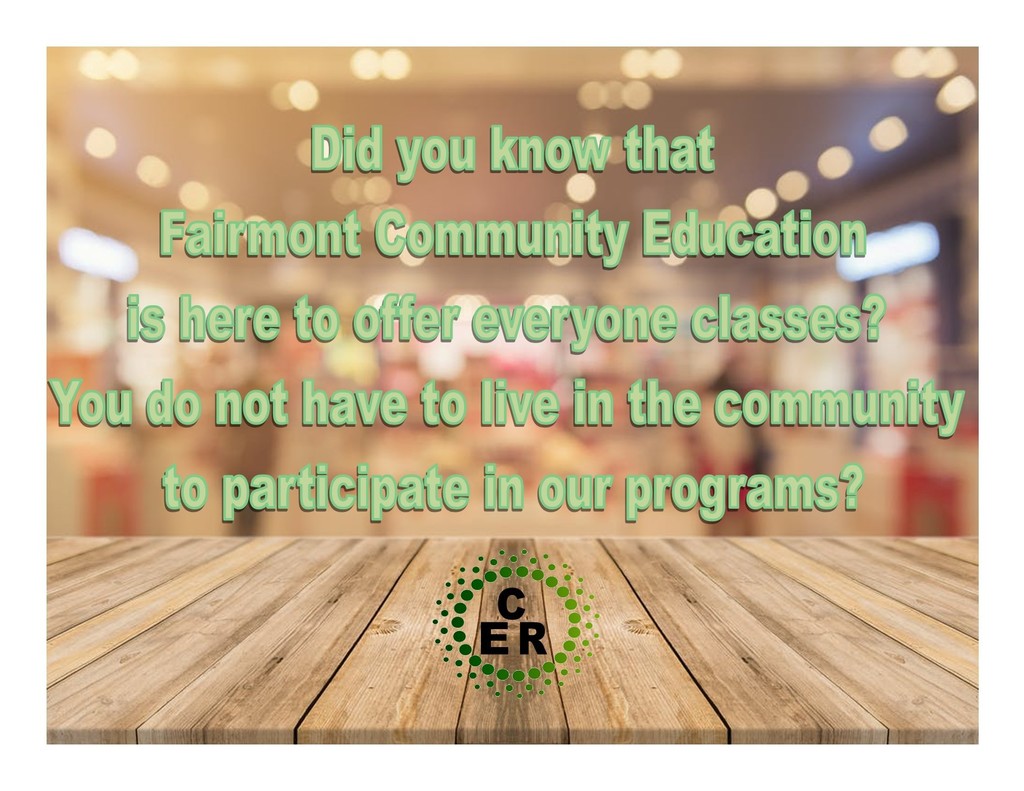 Archery through CER. Get signed up for the next sessions! February 14-18, Fairmont High School South Gym, Use door #5 Archery I 6:00 - 7:00 PM Archery II 7:00 - 8:00 PM $41 per session, Registration Closes February 7

Our friends in the Bot Ann-E class today! Club Invention/CER will be offering another class through Club Inventions in February. DIY ORBOT...you can sign up for it through our webstore. Because of 3Ms generous donation, this class is being offered for $15

Club Invention presents DIY ORBOT For youth grades 1-6, Feb. 14, 15, 17, 22, 24, 28, 3:30PM-5:00PM, CER Registration closes Feb. 7, Fee: $15

Dollars for Scholars Creating Your Financial Application Monday, February 7, 7-9:00 PM, Fmt. Jr/Sr High School, Media Center, FREE! Attend this hands-on session to discover how Fmt Dollars for Scholars evaluates its applications and receive help in starting your application.

Looking for a computer class? Look and see what CER has to offer. Microsoft Word: Basic AND Intermediate Microsoft Excel: Basic AND Intermediate Microsoft Publisher: Basic Microsoft PowerPoint: Basic


The MN Highway Safety & Research Center will hold an in-person refresher course, January 18 at CER (115 S Park Street) from 5:00-9:00pm. You MUST PRE-REGISTER! TO REGISTER CALL THE TOLL FREE NUMBER 1-888-234-1294 OR VISIT THEIR WEBSITE AT:
www.mnsafetycenter.org

T-Shirt Quilt Class T-shirts quilts are a great way to preserve memories. Come, bring your memorable shirts and make your own quilt. Tuesdays, Feb. 8, 15, & 22, CER, 6:00 PM- 9:00 PM. Cost $71.

Beginning Dog Obedience Class Tuesdays, March 29-May 10, 5:45-6:45 PM at Fairmont Elementary School. Fee: $60, Registration closes March 22.

LAST CALL to sigh up for Club Invention Bot ANN-E ! Thank you goes to 3M Fairmont & the 3M Foundation for their 3M Hometown Community Grant to assist in bringing this valuable program to our area youth. FEE $15 ($70 value) Registration closes Jan. 3.

Had a great afternoon with our friends making Wren Birdhouses and Pinecone birdseed feeders. Thank girls for coming!

****REMINDER**** Introduction to Weightlifting, Free! Register with Cutting Edge Fitness at 238-2969. Wednesdays, Jan. 5-26, 5:45-6:30 PM, class is only 1 week away.

TIME IS RUNNING OUT TO REGISTER! Welding Academy Saturdays beginning Jan. 8. Students contact Instructor Bob Bonin at
bbonin@fairmont.k12.mn.us
for more information or to enroll in this course. Adults register through CER in Fairmont 507-235-3141 REGISTRATION CLOSES JAN. 1!

***New Class Added*** Explore & experiment with STEAM learning at the Red Rock Center. Grades K-6, Saturdays, Jan 22, Feb 19, March 19. Pick a class you want to come to or sign up for all three! Registration closes 1 week prior to class. Sign up through CERs webstore.

Our friends had a great time today learning about 3D Printing. They were able to make some very cool 3D projects too! Hosted by Martin County Know How and CER.

Did you know that Fairmont CER has snowshoes? We rent out both adult and kid sizes. $8 a pair, can be picked up at CER 115 South Park Street.