Fairmont High School would like to recognized 2 student athletes that were selected to represent Fairmont in the Section 2A Triple A Award. A special congratulation to Solveig Senf and Cooper Steuber for this outstanding achievement. Pictured left to right is Athletic Director Mat Mahoney, High School Principal Chad Brusky, Cooper Steuber, Solveig Senf, Junior High Principal Alex Schmidt and Superintendent Andy Traetow.
Established in 1988, the Academics, Arts, and Athletics Award (Triple "A" Award) is sponsored by the Minnesota State High School League. The award goes to high school seniors who have a "B" or better grade point average and who participate in League-sponsored athletic and fine arts activities.
Solveig has had a fantastic career at FHS. During her time here at FHS, Solveig has taken 2 AP classes and 12 College in School courses while maintaining an impressive 4.27 GPA and is currently ranked in the top 5 of her class. This past fall, Solveig was a captain of our Girls Tennis team and was a key member of the team that finished 4th in state during her junior year. Solveig has been a mainstay on the Golf team where she has lettered 5 times, was all conference her sophomore and junior Season. Solveig finished 5th in the section as a junior and qualified for the class AA state tournament where she finished 21st. Solveig has also had her stamp in the fine arts here at Fairmont. Solveig has received 3 superior ratings in band. Solveig also participate in Mock Trial and Speech. In Speech, Solveig has been on varsity since her ninth grade year. She was named to the all-conference team as a sophomore and Junior, as well as qualifying for the class a state meet. Solveig was recently selected as the Region 2A Sub Section 6 female winner. Solveig will be interviewed on Monday with the chance to represent Region 2A at the state level. Next year Solveig is still undecided on which college to attend but would like to pursue something in Biology and Economics. Solveig would also like to continue her golf career at the next level.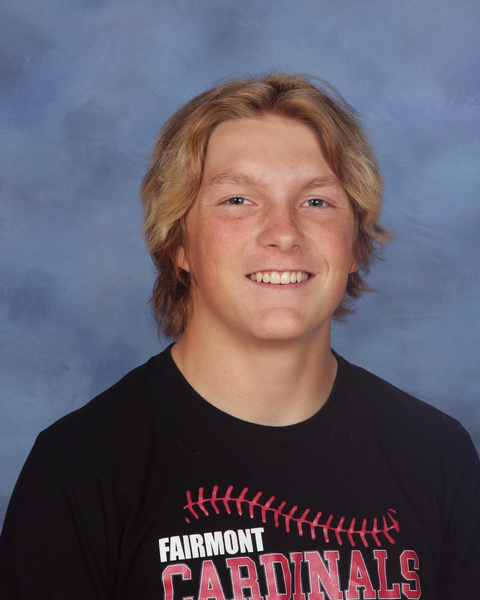 Cooper has kept himself busy while attending school here at FHS. Over the past 4 years, Cooper has taken 2 AP courses as well as 8 College in school courses. Cooper is a 3 sport athlete where he has excelled in Football, wrestling and Baseball. This past fall Cooper was a key member of the football team that reached the semifinals. Cooper has actually participated in the past 4 consecutive state tournaments dating back to Football, Wrestling and Baseball in 2021. Cooper has been a mainstay on the wrestling team and has been a key member since his freshman year. Cooper has been to state as a team the past three seasons with the wrestling team. Cooper has also been very successful on the baseball field where he was a key member on the state championship baseball team last spring. Cooper is also in Band and joined choir this semester after having a key role in the fall Musical. Next fall, Cooper is still undecided on which college to attend but would like to major in premed.
Congratulations to our 2023 Triple A winners Solveig and Cooper.