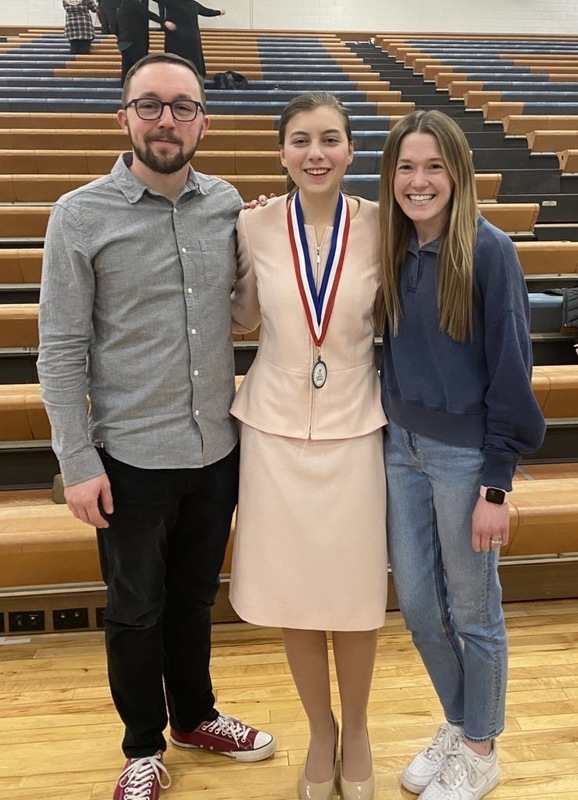 On Saturday, March 12, at Eagan High School, Senior Kara Fischer qualified for the National Tournament hosted by the National Speech & Debate Association in the event of Dramatic Interpretation. Nationals is in Louisville, Kentucky June 12-17, 2022.
The National Speech and Debate Tournament is the culmination of speech and debate circuits from all over the country of more than 6,000 students and over 1,500 schools. So, it is a great achievement to even qualify for the national tournament!
Fairmont Speech Program Nationals History:
2007, Miles Duffey, 7th in Humorous Interpretation
2012, Eric Noll, U.S. Extemporaneous Speaking
2015, Anagha Komaragiri, Original Oratory
2016, Anagha Komaragiri, 9th in Informative Speaking
2020, Isabell Geiger & Tabitha Thatcher, Top 30 in Asynchronous Duo Interpretation
2021, Weston Loughmiller, Domestic Extemporaneous Speaking
2021, Isabell Geiger & Tabitha Thatcher, 10th Place in Live Synchronous Duo Interpretation
Next up for Fairmont... 2022, Kara Fischer in Dramatic Interpretation!
Other notable success from the National Qualifying Tournament this weekend:
In Duo Interpretation, Kara Fischer & Selvin Forsythe took 6th Place! They are a third alternate duo to the national tournament.
In Dramatic Interpretation, Kaycie Brookens made it to Semifinals!
In Humorous Interpretation, Eleanor Hamlet made it to Semifinals!
The Big South Conference Speech Tournament is this Thursday, March 17th, at Marshall so stay tuned for more speech updates!