EDIT MAIN
Welcome to the Fairmont Area Community Calendar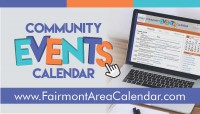 The Fairmont Area Community Calendar purpose is to provide a one-stop-shop for residents and visitors to see all of the area's events, a forecast for businesses' staff needs, and a planning tool when scheduling your own event.
Requesters are trained and will receive approval within 3 working days. Contact Kris at Community Education and Recreation, 235-3141, to be trained as a requestor for your organization or agency.
Administration of the Community Calendar is handled by Community Education and Recreation. A Community Calendar Advisory Committee, which includes representatives from the City of Fairmont, Fairmont Area Schools, Fairmont Community Education and Recreation, Fairmont Convention and Visitors Bureau, Fairmont Area Chamber of Commerce, and Martin County, will address issues and concerns that arise.